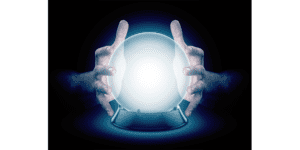 Many investors want guidance from experts who can tell them what the stock market will do in the near future.

It doesn't matter if these experts are consistently inaccurate or even if they're wrong more often than predictions based on random chance. The continuing desire to know what the future holds means that the professional prognosticators will have many more chances to get it wrong.

One of the reasons the future behavior of the market is so hard to predict is that millions of investors are in a way also making their best guess at a future outcome. They are directing their money to companies, sectors, and funds they believe will give them a return. If not tomorrow, then at least in the near future.

Add to this the unpredictability of the future events that publicly-held companies will be responding to. Given the infinite array of possibilities, it's no wonder that foreseeing with accuracy what stocks will do today, let alone next week, is impossible.

Warren Buffet once wrote in a shareholder newsletter, "We've long felt that the only value of stock forecasters is to make fortunetellers look good."1

Not long ago, the New York Post ran a profile on a psychic who is making good on this comparison.2

According to the article, Hae Jun Jeon is being tapped by dozens of big-money players in finance and tech for advice on how to invest.

She told the Post, "I've had many instances where I've told traders, 'Be more open-minded today' because I pulled a Capricorn card." She says that her clients then put in a trade they normally wouldn't have and make a lot of money.

Of course, Jeon won't give the names of actual clients who've made money this way. And her so-called advice is sufficiently fuzzy to seem like it could be true through confirmation bias (cherry-picking evidence). But she does have two things going for her.

First, in addition to investing tips she gives her clients predictions about their love life. This is something that is in high demand and not available from a typical stock market forecaster.

Second, along with knowing how to tell the future she knows a lot about finance. Jeon used to be a strategist and analyst for one of the largest Wall Street firms.

It's interesting that she's now experiencing greater success reading Tarot cards than in her former career making predictions based on past market data.

Getting advice about sound investing principles isn't bad. In fact, it's important. You just want to avoid getting what passes as "advice" from someone who is telling you that they know the future with certainty.

Instead, the prudent investor will benefit from working with us to build a long-term plan based on evidence, coupled with important information about you as an investor: your unique risk tolerance, time horizon, and specific financial needs and goals.
Have a wonderful Easter weekend!
Source: Efficient Advisors
---
Golf Tip of the Week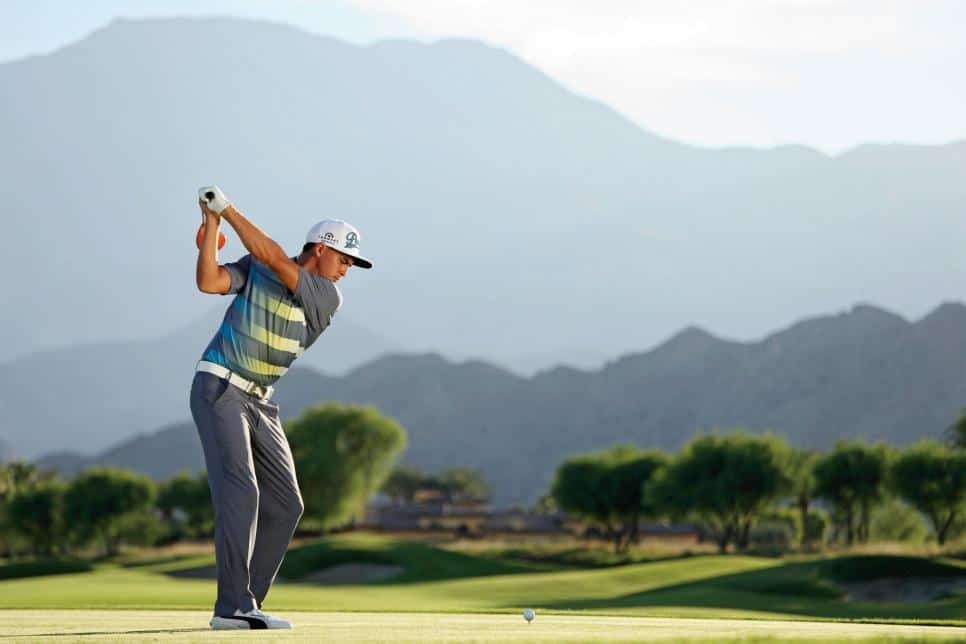 Hit the High Draw
When it comes time to win the long-drive contest, knowing how to hit the high draw is key to milking a few extra yards. Begin by using the left side of the tee box and position the feet and body more closed than normal. Concentrate on your rear shoulder and make sure it's lower than your forward shoulder at address. Second, tee the ball high—you want to catch the ball in the "hot zone," just above the sweet spot. The hands should be slightly back behind the ball, which is positioned just off the inside of your forward heel. Square up the club face to the target.
As you begin your backswing, follow an inside-out path, and on the downswing remember to rotate and not slide. Rotating will keep your body behind the ball, allowing for an upward, inside-out path. Presto! You have a high draw in your arsenal. When playing a high draw off the tee, my hands will release sooner, resulting in a high, drawing ball flight.
Tip adapted from GolfTipsMag.comi
---
Recipe of the Week
Crispy Chicken Parmesan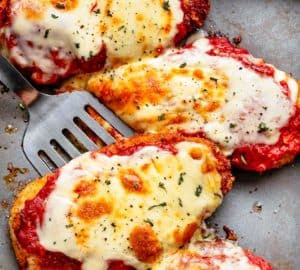 Serves 6

INGREDIENTS
For The Chicken:
2 large eggs
1 tablespoon minced garlic
2 tablespoons fresh chopped parsley
Salt and pepper to season
3 large chicken breasts halved horizontally to make 6 fillets
1 cup Panko breadcrumbs
1/2 cup breadcrumbs (Italian or golden)
1/2 cup fresh grated parmesan cheese
1 teaspoon garlic or onion powder
1/2 cup olive oil for frying
For The Sauce:
1 tablespoon olive oil
1 large onion chopped
2 teaspoons minced garlic
14 ounces tomato puree (Passata)
Salt and pepper to taste
1 teaspoon dried Italian herbs
1 teaspoon sugar (optional)
For The Topping:
8 ounces mozzarella cheese sliced or shredded
1/3 cup fresh shredded parmesan cheese
2 tablespoons fresh chopped basil or parsley
INSTRUCTIONS
For The Chicken:
Preheat oven 430°F | 220°C. Lightly grease an oven tray (or baking dish) with non-stick cooking oil spray; set aside.
Whisk together eggs, garlic, parsley, salt and pepper in a shallow dish. Add chicken into the egg, rotating to evenly coat each fillet in the mixture. Cover with plastic wrap and allow to marinate for at least 15 minutes (or overnight night if time allows for a deeper flavor).
When chicken is ready for cooking, mix bread crumbs, Parmesan cheese and garlic powder together in a separate shallow bowl. Dip chicken into the breadcrumb mixture to evenly coat.
Heat oil in a large skillet over medium-high heat until hot and shimmering. Fry chicken until golden and crispy, (about 4-5 minutes each side).
Place chicken on prepared baking tray / dish and top each breast with about 1/3 cup of sauce (sauce recipe below). Top each chicken breast with 2-3 slices of mozzarella cheese and about 2 tablespoons parmesan cheese. Sprinkle with basil or parsley.
Bake for 15-20 minutes, or until cheese is bubbling and melted, and the chicken is completely cooked through.
For The Sauce:
Heat oil in a medium-sized pot. Fry onion until transparent (about 3 minutes), then add the garlic until fragrant (about 30 seconds).
Add the tomato puree, salt and pepper to taste, Italian herbs and sugar (If using). Cover with lid to simmer for about 8 minutes, or until sauce has thickened slightly. Taste test and adjust salt and pepper, if needed.
Recipe adapted from Cafedelites.comii
---
Health Tip of the Week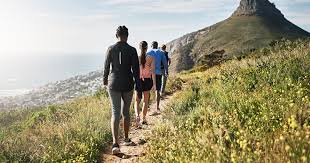 Take A Wellness Vacation
When you think of wellness and travel, you might think of fancy spas or fitness retreats –but wellness vacations come in all shapes and budgets. If you're planning a trip, consider making these fun activities a focus:
Walking. Go on walking tours of your destination or add some hiking to your plans.
Local fitness. Most hotels have a gym, and many local gyms will give you a free week to try out their services.
Group lessons. If you're traveling with friends, consider trying out a new sport and booking a group tennis, yoga, or golf lesson.
Tip adapted from AARPiii
Copyright (C) 2021. Ballentine Capital Advisors. All rights reserved.
Our mailing address is:
Ballentine Capital Advisors
15 Halton Green Way
Greenville, SC 29607
unsubscribe from this list update subscription preferences
Sources:
1. https://www.berkshirehathaway.com/letters/1992.html
2. https://nypost.com/2020/08/08/meet-the-psychic-that-big-money-wall-street-traders-depend-on/
Disclosure:
The views expressed herein are exclusively those of Efficient Advisors, LLC ('EA'), and are not meant as investment advice and are subject to change. All charts and graphs are presented for informational and analytical purposes only. No chart or graph is intended to be used as a guide to investing. EA portfolios may contain specific securities that have been mentioned herein. EA makes no claim as to the suitability of these securities. Past performance is not a guarantee of future performance. Information contained herein is derived from sources we believe to be reliable, however, we do not represent that this information is complete or accurate and it should not be relied upon as such. All opinions expressed herein are subject to change without notice. This information is prepared for general information only. It does not have regard to the specific investment objectives, financial situation and the particular needs of any specific person who may receive this report. You should seek financial advice regarding the appropriateness of investing in any security or investment strategy discussed or recommended in this report and should understand that statements regarding future prospects may not be realized. You should note that security values may fluctuate and that each security's price or value may rise or fall. Accordingly, investors may receive back less than originally invested. Investing in any security involves certain systematic risks including, but not limited to, market risk, interest-rate risk, inflation risk, and event risk. These risks are in addition to any unsystematic risks associated with particular investment styles or strategies.

The articles and opinions expressed in this newsletter were gathered from a variety of sources but are reviewed by Ballentine Capital Advisors prior to its dissemination. All sources are believed to be reliable but do not constitute specific investment advice. In all cases, please contact your investment professional before making any investment choices.
Securities through Triad Advisors, LLC, Member FINRA/SIPC. Advisory services through Ballentine Capital Advisors, Inc. Triad Advisors and Ballentine Capital Advisors are not affiliated entities.
---
i https://www.golftipsmag.com/instruction/shotmaking/money-shots/
iihttps://cafedelites.com/crispy-chicken-parmesan/
iii https://travel.aarp.org/articles-tips/articles/info-2016/health-wellness-vacations-photo.html#slide8