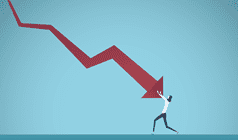 Short answer: Nobody knows! I hate to burst anyone's bubble, but good news doesn't sell. In the words of a mentor, the next apocalypse dejour is ALWAYS around the corner. Let me digress.
Back in 2019, before the COVID-19 hiatus, we had an inverted yield curve, which simply means that long-term U.S. Treasury yields were lower than their short-term counterparts. In reality, you want to get adequately compensated for tying up your money for long periods of time. Therefore, you generally expect higher yields to do so, hence a positively sloped yield curve. Misinformed investors and media falsely assume that an inverted yield curve causes a recession when it does not. Obviously, COVID-19 caused the market to plummet, but it happened to follow an inverted yield curve.
As you can see below, when the blue line goes below zero (yield curve inverts) a recession often follows. Again, this is a correlation, not causation. An inverted yield curve does not cause a recession, rather it tends to correlate with the possibility of one.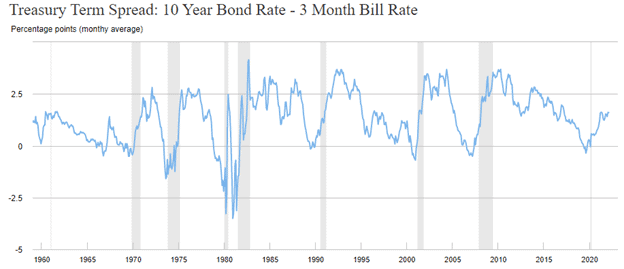 Sources: Board of Governors of the Federal Reserve; National Bureau of Economic Research; authors' calculations.
History is our best guide as to what might come to fruition. We caution clients not to trust anyone who claims to know what the future holds. If they indeed knew, they would not be preaching it to the masses because they would have a "lottery ticket" in their possession.
So, what can you do to prepare for the future? Have a plan! Whether we have an inverted yield curve, a war with Russia, or a recession, a sound financial plan is your best bet. The main cause of investor loss is in the emotional decisions of the investor themselves. The long-term trajectory of the market has been upwards. So, we encourage you not to focus on short-term swings and news headlines.
Some questions to ponder:
Do you have a purposeful investment plan?
If you have a plan, how are you minimizing sequence of return risk?
Are you picking your investments based on emotions and speculation or history?
What would you do if we went through another 2008 recession? Buy more, sell off everything at a loss, or something in between?
Do you lose sleep at night at the thought of temporarily losing statement value or purchasing power? Hint – the latter is the real risk.
If any of those questions pertain to you, do not hesitate to reach out! We are here to help by building, implementing, and monitoring your plan.
Have a great weekend!
---
Golf Tip of the Week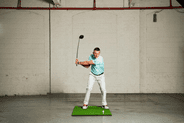 Hit More Bombs
Hitting ball after ball on the range, working on something specific, is not going to help you retain that skill over time. Several top motor-learning specialists believe the best way to practice and improve on a skill is to lose the feeling of the desired swing change you're trying to make—and then recalling it.
Here is a drill for swing speed I learned from leading golf-biomechanics researcher Sasho MacKenzie. After you get loose, make five driver swings taking the club back as fast as you can. Really crank it back. Then hit a drive using that super-fast backswing. I bet you generate a lot more speed than you usually do.
This technique works because the faster you swing the club back, the harder you have to work to start the downswing. You have to apply a high amount of force to the grip of the club as you transition down, which transfers more energy into the shaft and the clubhead, creating more speed.
For this drill to really take hold, go tackle another task, like practice putting, after just one round, then come back and do another round of the drill. If you train like this, you'll find your brain has to work harder to recall what you need to do, and this type of varied practice makes it more likely you will retain this speed over time—and transfer it to the golf course.

Tip adapted from golfdigest.com
---
Recipe of the Week
Sauteed Italian Sausage with Onions and Peppers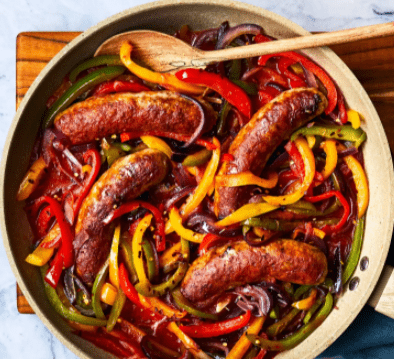 4 servings
Ingredients
4 (6- to 7-ounce) sweet Italian pork sausages
3 medium bell peppers (mix of yellow, red, and green), sliced (about 5 loosely packed cups)
1 large red onion, halved lengthwise and thinly sliced crosswise (about 3 cups)
2 tablespoons tomato paste
3 large garlic cloves, thinly sliced (about 11/2 tablespoons)
½ teaspoon kosher salt
¼ teaspoon crushed red pepper
1 cup lower-sodium chicken broth
1 tablespoon red wine vinegar
Instructions
Preheat oven to 400°F. Prick Italian sausages all over using a knife. Place sausages in a cold large ovenproof skillet. Cook over medium-high, flipping occasionally, until browned on all sides, about 14 minutes. Transfer to a plate. Do not wipe skillet clean.
Add bell peppers and onion to skillet; cook over medium-high, stirring often, until softened, about 6 minutes. Add tomato paste, garlic, salt, and crushed red pepper; cook, stirring often, until vegetables are well coated in tomato paste and garlic is tender and aromatic, about 2 minutes. Stir in broth and vinegar. Bring to a boil over medium-high. Boil, stirring often, until liquid has almost completely reduced, about 6 minutes. Return sausages to skillet.
Transfer skillet to preheated oven, and roast until vegetables are tender and a thermometer inserted in thickest portion of sausages registers 160°F, about 15 minutes. Remove from oven; let stand until cool enough to handle, 3 to 5 minutes. Serve with crusty bread.
Recipe adapted from foodandwine.comii
---
Health Tip of the Week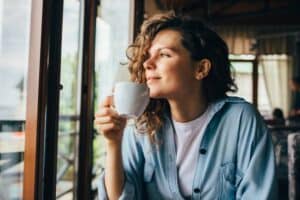 12 Brain-Boosting Beverages
Choosing the right beverage might improve your energy level, cut down on brain fog, and help you concentrate. See what the research says about these drinks you can try throughout the day.
Coffee
Green Tea
Berry Juices
Kombucha
Green Smoothie
Turmeric tea
Beetroot Juice
Ginseng Tea
Hot Chocolate
Lemon Water
Red Wine
Lion's Mane Mushroom Tea
Tip adapted from webmed.comiii
---
Copyright (C) 2021. Ballentine Capital Advisors. All rights reserved.
Our mailing address is:
Ballentine Capital Advisors
15 Halton Green Way
Greenville, SC 29607
unsubscribe from this list update subscription preferences
Disclosure:
Ballentine Capital Advisors is a registered investment adviser. The advisory services of Ballentine Capital Advisors are not made available in any jurisdiction in which Ballentine Capital Advisors is not registered or is otherwise exempt from registration.
Please review Ballentine Capital Advisors Disclosure Brochure for a complete explanation of fees. Investing involves risks. Investments are not guaranteed and may lose value.
This material is prepared by Ballentine Capital Advisors for informational purposes only. It is not intended to serve as a substitute for personalized investment advice or as a recommendation or solicitation or any particular security, strategy, or investment product.
No representation is being made that any account will or is likely to achieve future profits or losses similar to those shown. You should not assume that investment decisions we make in the future will be profitable or equal the investment performance of the past. Past performance does not indicate future results.
Advisory services through Ballentine Capital Advisors, Inc.
---
i https://www.golfdigest.com/story/hit-more-bombs-drill-crank-up-backswing
ii https://www.foodandwine.com/recipes/sauteed-italian-sausage-with-onions-and-peppers
iii https://www.webmd.com/brain/ss/slideshow-brain-boosting-beverages