On September 3, 2014 at 11 PM the world's tallest geyser, Steamboat Geyser, erupted unexpectedly. Located in Yellowstone Park, the dramatic explosion of steam and scalding water reached the height of a 30-story building. Ironically, this somewhat extraordinary event was witnessed by just one person, a park ranger.
Predicting when Steamboat will go off is a difficult feat. In the half century between 1911 and 1961 it didn't erupt once. In 1964 it erupted a record 29 times.1

While it would be extremely exciting to witness Steamboat shooting up to its full height, unless you plan to stay within eyesight of it 24/7/365, the chances of being present at the moment it happens are very unlikely. Even if by some stroke of luck you'd happened to be visiting the 3,400+ square mile Yellowstone Park on 09/03/2014, chances are you wouldn't have been wandering around that particular geyser basin at 11 o'clock at night.

The challenge of rare geyser watching is similar to what short-term traders face as they try to predict when the next undervalued stock will shoot sky high.

A recent example of this is a small company energy stock. On September 23rd of last year the firm's stock went from trading at around $1 per share all the way up to $46.

Veteran trader Gary Bourgealt was one of the lucky few to buy this small company's stock as it was starting its climb that day. He purchased shares at $3.44. But he sold a short time later for $3.47, just three cents higher, at the time counting himself fortunate to have gotten out without a loss. Writing for Seeking Alpha, he explains in hindsight why an explosive 13X return on his money seemed unlikely even a few minutes before it could have happened.2

"This company has a history of chasing after trends," says Bourgealt, "as it engaged in a bitcoin mining deal in 2018, a solar project and hemp business in 2019, and now the EV business."

When he looked back he saw that during those years of searching for a profitable business model this comapny struggled to stay above penny stock status. He noted that just four months before its meteoric rise the company had received a deficiency letter from Nasdaq.
But even now that the company's stock has seemed to stabilize at around $7, twice what he paid for it, Bourgealt is happy not to own it. He believes the company is temporarily benefitting from the hype surrounding any company in the EV business (its spike came shortly after announcing a single contract), and he concludes, "the company doesn't deserve our trust yet, and it has a long way to go before it proves it can sustainably generate revenue, let alone a profit."

Even though he didn't make a killing on the small company energy stock, Bourgealt is one of the lucky ones. A lot of investors lost a lot of money in the days after the price spike.

If you want to see a spectacular geyser in action, Old Faithful, which erupts about 20 times per day, is your most reliable option.3

In the same way, if you want to pursue inflation-combating returns that, over the long-term, should give you the best chance of being able to retire comfortably, your most prudent option is a broadly diverse portfolio, along with our help.

Have a fantastic weekend!



Source: Efficient Advisors
---
Golf Tip of the Week
How to Avoid That Golf Hazard
Here we are facing one of the hardest shots facing any player: A 60-yard shot to the green, with a dreaded golf hazard in front and a bunker behind that. It's a shot that takes a lot of commitment.
Some players will go by the front of the green yardage — how far to just get over the hazard — when what I recommend is taking all of that out of play. Play the number to the back of the green. If you play it long, oh well — you're not in the hazard or bunker and give yourself a chance to save bogey or perhaps par if you make a good putt.
Again, play the yardage to the back of the green with a good, aggressive swing. If you quit on it, you most certainly will get in the hazard or bunker. So, go after it and play the longer distance!
Tip adapted from GolfTipsMag.comi
---
Recipe of the Week
Vegetable Soup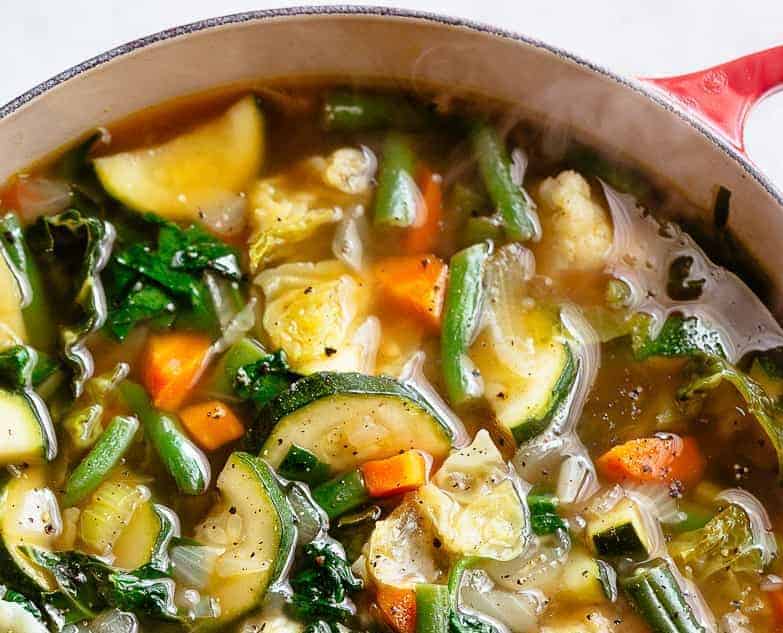 Serves 8

INGREDIENTS
2 tablespoons olive oil
2 onions, chopped
1/2 cup chopped celery
2 medium carrots peeled and chopped
6 cloves garlic finely chopped
2 zucchini chopped
10 oz fresh green beans sliced into 1-inch pieces
10 oz cauliflower florets
4 cups chopped cabbage leaves, washed (about 1/4 of a head)
2 quarts low sodium beef stock (chicken or vegetable broth may be used)
2 teaspoons beef bouillon powder, (chicken or vegetable may be used)
1 teaspoon cayenne pepper (if desired — adjust to your heat preference)
1 teaspoon salt to season
1/2 teaspoon freshly ground black pepper
4 cups loosely packed spinach leaves washed
1/4 cup packed chopped fresh parsley leaves
2 teaspoons freshly squeezed lemon juice
INSTRUCTIONS
Heat the olive oil in large, heavy-bottomed stockpot over medium-low heat. Once hot, add the onion, carrots and celery. Sauté until they begin to soften, about 8 minutes.
Add the garlic and sauté until fragrant, about 30 seconds. Then add the zucchini and green beans and continue to cook for 4 to 5 more minutes, stirring occasionally.
Throw in the cauliflower and cabbage leaves. Add the stock, increase the heat to high, and bring to a simmer. Once simmering, season with the buillion and cayenne. Taste test and season with salt and pepper.
Reduce the heat to low, cover, and cook until the vegetables are fork tender, about 20 minutes. Add the spinach leaves and stir through until wilted.
Remove from heat and add the parsley and lemon juice.
Adjust seasonings. Serve immediately.
Recipe adapted from Cafedelites.comii
---
Health Tip of the Week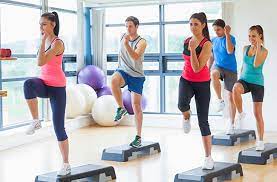 Exercise is the Best Thing You Can Do for Your Brain
The research is clear: Regular exercise is the best way to keep your brain sharp and healthy. While scientists aren't clear on the direct relationship between exercise and brain health, one possibility is the way that exercise boosts blood flow to the brain. Exercise can also help reduce stress, control blood sugar, lower the risk of strokes, and improve balance. It's a win-win for your body.
The good news is that it's never too late to start an exercise program for brain health. Talk to your physician and look for fitness options that seem interesting. Many local gyms offer classes geared toward beginners and older folks. Experts recommend at least 2-1/2 hours of brisk exercise— like a fast-paced walk—each week.

Tip adapted from AARPiii
---
Copyright (C) 2021. Ballentine Capital Advisors. All rights reserved.
Our mailing address is:
Ballentine Capital Advisors
15 Halton Green Way
Greenville, SC 29607
unsubscribe from this list update subscription preferences
Sources:
1. https://go.efficientadvisors.com/e/91522/allest-steamboat-geyser-erupts/6x5w96/1143242525?h=D8I_XbWRrMTUJZb2FQ76SaXTpUTkbmdkYC-H9Y_IGw0
2. https://go.efficientadvisors.com/e/91522/-i-missed-13-bagger-in-one-day/6x5w98/1143242525?h=D8I_XbWRrMTUJZb2FQ76SaXTpUTkbmdkYC-H9Y_IGw0
3. https://go.efficientadvisors.com/e/91522/hings-to-do-about-old-faithful/6x5w9b/1143242525?h=D8I_XbWRrMTUJZb2FQ76SaXTpUTkbmdkYC-H9Y_IGw0
Disclosure:
The views expressed herein are exclusively those of Efficient Advisors, LLC ('EA'), and are not meant as investment advice and are subject to change. All charts and graphs are presented for informational and analytical purposes only. No chart or graph is intended to be used as a guide to investing. EA portfolios may contain specific securities that have been mentioned herein. EA makes no claim as to the suitability of these securities. Past performance is not a guarantee of future performance. Information contained herein is derived from sources we believe to be reliable, however, we do not represent that this information is complete or accurate and it should not be relied upon as such. All opinions expressed herein are subject to change without notice. This information is prepared for general information only. It does not have regard to the specific investment objectives, financial situation and the particular needs of any specific person who may receive this report. You should seek financial advice regarding the appropriateness of investing in any security or investment strategy discussed or recommended in this report and should understand that statements regarding future prospects may not be realized. You should note that security values may fluctuate and that each security's price or value may rise or fall. Accordingly, investors may receive back less than originally invested. Investing in any security involves certain systematic risks including, but not limited to, market risk, interest-rate risk, inflation risk, and event risk. These risks are in addition to any unsystematic risks associated with particular investment styles or strategies.

The articles and opinions expressed in this newsletter were gathered from a variety of sources but are reviewed by Ballentine Capital Advisors prior to its dissemination. All sources are believed to be reliable but do not constitute specific investment advice. In all cases, please contact your investment professional before making any investment choices.
Securities through Triad Advisors, LLC, Member FINRA/SIPC. Advisory services through Ballentine Capital Advisors, Inc. Triad Advisors and Ballentine Capital Advisors are not affiliated entities.
---
i https://www.golftipsmag.com/instruction/strategy-troubleshooting/how-to-avoid-that-golf-hazard/
ii https://cafedelites.com/vegetable-soup/
iii https://www.aarp.org/health/brain-health/info-05-2013/exercising-tips-for-brain-health.html