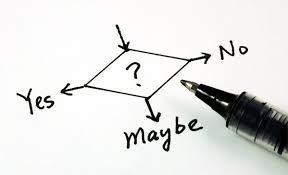 Whether through inertia or trepidation, investors who put off important investment decisions might consider the admonition offered by motivational speaker Brian Tracy, "Almost any decision is better than no decision at all."1
This investment inaction is played out in many ways, often silently, invisibly and with potential consequence to an individual's future financial security.
Let's review some of the forms this takes.
Your 401(k) Plan
The worst indecision may be the failure to enroll. Not only do nonparticipants sacrifice one of the best ways to save for their eventual retirement, but they also forfeit the money that any employer matching contributions represents. Not participating holds the potential to be one of the most costly indecisions one can make.
The other way individuals let indecision get the best of them is by not selecting the investments for the contributions they make to the 401(k) plan. When a participant fails to make an investment selection, the plan may have provisions for automatically investing that money. That investment selection may not be consistent with the individual's time horizon, risk tolerance, and goals.
Under the SECURE Act, in most circumstances, you must begin taking required minimum distributions from your 401(k) or other defined contribution plan in the year you turn 72. Withdrawals from your 401(k) or other defined contribution plans are taxed as ordinary income, and if taken before age 59½, may be subject to a 10 percent federal income tax penalty.
Non-Retirement Plan Investments
For homeowners, "stuff" just seems to accumulate over time. The same may be true for investors. Some buy investments based on articles they have read or based on the recommendations of a family member. Others may have investments held in a previous employer's 401(k) plan.
Over time, we can end up with a collection of investments that may have no connection to our investment objectives. Because of the dynamics of the markets, an investment that may have once made good sense may no longer be advantageous today.
By not periodically reviewing what we own, which would allow us to cull inappropriate investments – or even determining if the portfolio reflects our current investment objectives – we are making a default decision to own investments that may be inappropriate.
Whatever your situation, your retirement investments require careful attention and may benefit from deliberate, thoughtful decision-making. Your retired self will be grateful that you invested the time … today.
Give us a call if you need help determining how your current investments fit in to your financial plan.
Have a wonderful weekend!






Source: FMG Suite
---
Golf Tip of the Week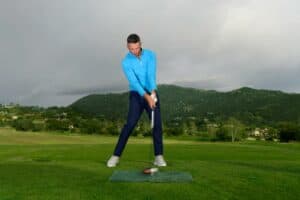 Maximum Distance Off the Tee
Your driver should strike the ball on the upswing to produce maximum distance, but how do you know if you're doing it? The good news is you don't need a launch monitor to find out. Instead, try this low-tech drill: Put a pair of small towels on the ground in front of and behind a teed-up ball, and then make a swing (right). Ideally, you want to hit the ball and not the towels but striking either towel will tell you a lot about your swing.
Move the front towel and you're hitting down on the ball, which robs you of distance off the tee. The most common cause is that the upper body is swaying toward the target on the downswing. To improve, focus on staying back through impact to see if that gets you launching the ball higher with less spin.
If you moved the back towel, it likely means you tried to hit up on the ball, which is great, but you didn't shift your weight onto your front leg. Try pushing hard into the ground with your lead leg as you start the downswing. That push will help produce the ideal attack angle.
BY THE NUMBERS
+2 DEGREES vs. -2 DEGREES
LPGA Tour pros hit 2 degrees up on the ball with a driver to grab every yard they can. Amateurs with similar swing speeds average 2 degrees down, losing distance.
Tip adapted from golfdigest.comi
---
Recipe of the Week
One-Pan Salmon with Roasted Asparagus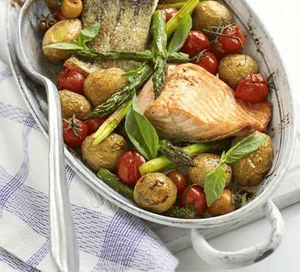 2 Servings
Ingredients
400g new potato, halved if large
2 tbsp olive oil
8 asparagus spears, trimmed and halved
2 handfuls cherry tomatoes
1 tbsp balsamic vinegar
2 salmon fillets, about 140g/5oz each
handful basil leaves
Instructions
Heat oven to 220C/fan 200C/gas 7. Tip the potatoes and 1 tbsp of olive oil into an ovenproof dish, then roast the potatoes for 20 mins until starting to brown. Toss the asparagus in with the potatoes, then return to the oven for 15 mins.
Throw in the cherry tomatoes and vinegar and nestle the salmon amongst the vegetables. Drizzle with the remaining oil and return to the oven for a final 10-15 mins until the salmon is cooked. Scatter over the basil leaves and serve everything scooped straight from the dish.
Recipe adapted from bbcgoodfood.comii
---
Health Tip of the Week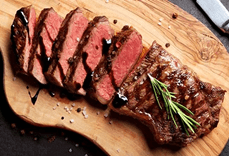 Surprising Things That Can Hurt Your Kidneys
Your kidneys do a lot for you. Find out how you might be damaging them without even knowing it.
Too much protein
Salt
Smoking
Alcohol
Sodas
Dehydration
Pain Medication
Illegal drugs
Overtraining
Bodybuilding steroids
Heartburn Drugs
Strep Throat
Tip adapted from webmd.comiii
---
Copyright (C) 2021. Ballentine Capital Advisors. All rights reserved.
Our mailing address is:
Ballentine Capital Advisors
15 Halton Green Way
Greenville, SC 29607
unsubscribe from this list update subscription preferences
Source:
1) Brainy Quote, 2021
Disclosure:
The content is developed from sources believed to be providing accurate information. The information in this material is not intended as tax or legal advice. It may not be used for the purpose of avoiding any federal tax penalties. Please consult legal or tax professionals for specific information regarding your individual situation. This material was developed and produced by FMG Suite to provide information on a topic that may be of interest. FMG Suite is not affiliated with Ballentine Capital Advisors. The opinions expressed and material provided are for general information, and should not be considered a solicitation for the purchase or sale of any security. Copyright FMG Suite.
Ballentine Capital Advisors is a registered investment adviser. The advisory services of Ballentine Capital Advisors are not made available in any jurisdiction in which Ballentine Capital Advisors is not registered or is otherwise exempt from registration.
Please review Ballentine Capital Advisors Disclosure Brochure for a complete explanation of fees. Investing involves risks. Investments are not guaranteed and may lose value.
This material is prepared by Ballentine Capital Advisors for informational purposes only. It is not intended to serve as a substitute for personalized investment advice or as a recommendation or solicitation or any particular security, strategy, or investment product.
No representation is being made that any account will or is likely to achieve future profits or losses similar to those shown. You should not assume that investment decisions we make in the future will be profitable or equal the investment performance of the past. Past performance does not indicate future results.
Advisory services through Ballentine Capital Advisors, Inc.
---
i https://www.golfdigest.com/story/simple-drill-longer-drives-maximum-distance
ii www.bbcgoodfood.com/recipes/one-pan-salmon-roast-asparagus
iii https://www.webmd.com/kidney-stones/ss/slideshow-hurt-kidneys